Health is a state of being, not a physical appearance.
Service Include:
Fitness Classes
Fitness Demos
Health & Wellness Fairs & Community Events
Training (Virtual & Live) Group Exercise Certification & Life Coaching
CEU Courses
As world-wide beauty standards begin to change, the self-image and body positivity movement is still on the rise, but hasn't made its way to the fitness industry as of yet. This puts Kinestherapy at an advantage to be positioned at the start of what will become a global impact and will ultimately change the dynamic of the healthy/unhealthy stereotypes.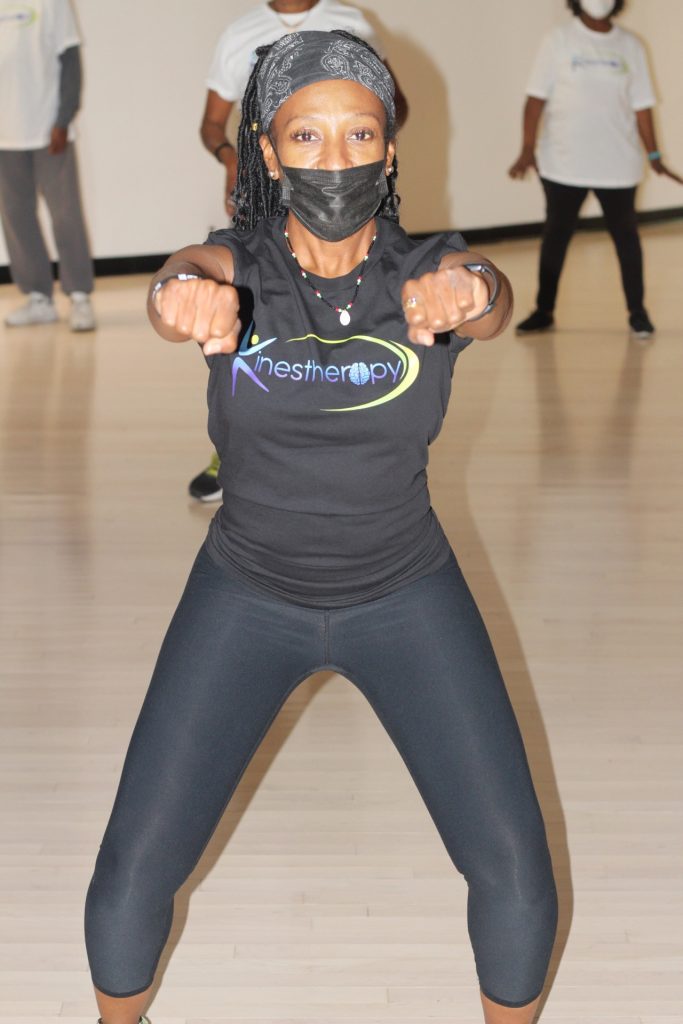 Your Kinestherapy Instructor Class Awaits!
Learn About Becoming a Kinestherapy Instructor
Learn about Kinestherapy's classes, structure and content.
Who is this program for?
Kinestherapy is for health gurus, beginners and those who desire to maintain a fitness level they've acquired. This program is designed for all groups promoting ultimate health and wellness in all aspects of life. Anyone who could use the motivation, encouragement or a little uplifting to make it through another day should be in attendance.
What is the plan/goal?
Phase 1 – Launch fitness brand, certify Kinestherapy instructors. Obtain credentials and accreditation to certify Kinestherapy instructors as Group Exercise Instructors and Life Coaches. Release website. Incorporate business name. Register trademark. Start promotional commercials.
Goal: 500 Certified instructors world-wide by 2024
Phase 2 – Increase target market to therapists, educators, and clinics. Kinestherapy to improve patient experience and therapists' results from patients. Training course and CEUs offered to Licensed therapists.
Goal: Have program taught as part of curriculum in schools and offer program at facilities by 2026
Phase 3 – Open facility, all health and wellness in one building: fitness center, aerobics room, indoor pool, indoor walking track, basketball court, cafe, retail store, greenhouse garden with fresh fruits/veggies, private treatment rooms, showers, rooms for party rentals, and child's play area. Services include: physical therapy, occupational therapy, massage therapy, Reiki healing practices, personal training, dietitians, chef's classes, naturopathic doctor, cognitive behavior therapy, group exercise classes. This facility offers memberships and a quiz to determine where the member is on the health continuum. Once the quiz is completed, the member will receive a "starting point" recommendation based on their level of health.
Goal: Open first facility by 2026
What do the classes consist of?
Core Components – All components are included in each class structure
Physical Health
○ Cardiovascular, core, strength, toning, balance, and coordination are targeted aspects in the physical health component
Mental Health
○ Affirmations, Breathing techniques
Spiritual Health
○ Meditation/Prayer components
Emotional Health
○ Self-love, self-esteem, self-confidence
How are your classes structured?
For the Fitness Professional
I. Welcome
II. Warm-up
III. Intensity
IV. Cool Down
What's the cost to get started?
Signing up to become a Kinestherapy Inctructor is easy!  If you've read though the program questions above, you now have all the information to get started.  Take advantage of this introductory pricing by clicking/tapping the [SIGN UP] button, enter a little information, choose your class schedule and you're on your way!
AVAILABLE NOW!
Kinestherapy Fitness Professional Certification:
$399 – LIMITED TIME SPECIAL [SIGN-UP]
Kinestherapy Fit-a-Vert (includes group exercise certification):
$599 – LIMITED TIME SPECIAL [SIGN-UP]
Kinestherapy Specialist (includes both group ex and life coaching certification):
$899 – LIMITED TIME SPECIAL [SIGN-UP]
All levels include back office, community forums, job & contract opportunities, CEU credits, and free membership to Minority Fitness Professionals Society